25 Nov 2020
Six-nation military exercise in Egypt sees main stage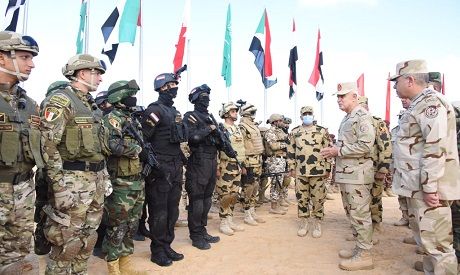 Joint military exercise dubbed 'Sword of Arabs,' - executed by armed forces from six Arab countries including Egypt - has seen its main stage that involved cooperation between the participating forces to execute planned tasks in specified timeframes.
Egypt's Army Chief of Staff Lt. General Mohamed Farid and many chiefs of staffs of the participating countries attended the main stage at the Mohamed Naguib Military Base, located at Marsa Matrouh governorate, in the northwest of Egypt.
The joint training has been extended from 17 November and is set to finish this Thursday.
The main stage included executing tactical exercises with live ammunition from different weapons, including that of the Air Force, Egyptian military spokesman Tamer El-Refae said in a statement on Wednesday.
The stage showed the high ability of the forces during movement or steadiness to hit targets as well as, the high maneuvering capabilities shown during the joint work between the Arab forces of participating countries.
The stage was concluded after paratroopers from the participating forces made a joint jump, while raising the flags of all countries involved in the training.
Farid praised the coordination and cooperation that had been shown between the participating Arab forces, saying this training highlights the joint ability to face hostilities and challenges facing the Arab nations.
The main goal of the 'Sword of Arabs' training is to maintain renewed readiness to preserve the stability of the Arab region.