31 Aug 2023
Turkey attaches 'special importance' to military cooperation with Egypt: Turkish ambassador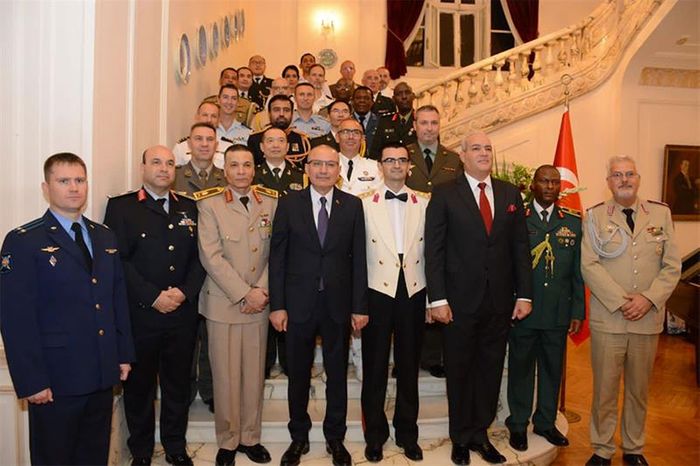 While celebrating the country's Victory Day in Cairo on Wednesday, Turkey's Ambassador in Cairo Salih Mutlu Sen said that the Turkish Armed Forces attaches special importance to cooperation with its Egyptian counterpart.
The celebration at the ambassador's residence was attended from the Egyptian side by Major General Abdel-Nasser Youssef, assistant minister of defence and Major General Mustafa El-Sherbiny, assistant chief of staff. Also attending were several ambassadors, diplomats and military attachés from around the world.
In his remarks at the ceremony, Sen congratulated the country's armed forces and citizens and extended his thanks to those in attendance.
The public holiday, also known as Turkish Armed Forces Day, celebrates the country's victory in the Battle of Dumlupınar over Greek forces in 1922, which played an important role in the Turkish War of Independence.
"The great offensive, which resulted in a great victory 101 years ago in Dumlupınar under the leadership of Gazi Mustafa Kemal Atatürk, is the greatest proof that the lands on which we live freely today are our eternal home," said Sen.
He also drew a parallel between the battle and the attempted coup in July 2016 by factions within the armed forces.
"The events of the night of 15 July have demonstrated once again that the spirit of steadfast will that inspired the defenders of the fatherland is still alive in the hearts of all our citizens."
Sen then moved on to trumpet the country's efforts to build a prosperous future, pointing to its many achievements spanning the economy, defence industry, foreign policy, energy, and counter-terrorism.
"In order to be worthy of the cherished memories of those who gifted us this victory [during the war of independence], we will continue to work together to present our country with a more prosperous future."
Finally, he brought up the country's armed forces, saying it is one of the most important guarantors of peace and security across the region and the world.
"The Turkish Armed Forces aims to enhance cooperation with all friendly and brotherly countries, as well as to support regional and global peace, stability, and security.
"The armed forces attach special importance to cooperation, [including in education and training] with the Egyptian Armed Forces, which enjoy a great and respected status with its traditions, weapons systems, courage, and discipline."
He also noted that the defence industry is another promising area for cooperation between the two countries.